News & Events
What our Clients are Saying
Client Advisories
Press Releases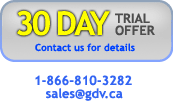 May 18, 2004 - Power Outages
The great blackout of summer 2003 exposed business continuity vulnerabilities in IT systems and the facilities that support them. It also refocused attention on the ongoing instability of the power system which has presented businesses with operational challenges. Many businesses are poorly prepared to meet such challenges.

May 17, 2004 - Microsoft is discontinuing support for Windows NT Server 4.0
The Microsoft Windows NT Server 4.0 family of operating systems began entering the marketplace in September 1996. After five years on the market—and with the increasing adoption of its successor, the Windows 2000 Server family of operating systems—Windows NT Server 4.0 is being retired in phases.



© 2008 Global Data Vaulting Inc.
Legal | Privacy Statement