Global Data Vaulting
About GDV
Why a Managed Solution?
Contact Us
Partner with GDV
Careers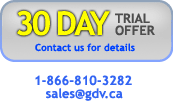 Whether an in-house solution or on-line, the management of a backup and recovery solution typically falls into the hands of whoever handles your IT needs. With Global Data Vaulting's fully managed solution, we take the responsibility for the setup and configuration and the day-to-day management.
Benefits Analysis
Comprehensive system review to ensure all required data is included in the backup scheme.
Custom file retention policy created to meet business needs
Recoveries of single file or full system can be returned in multiple formats, even to a different system
No client intervention required with scheduled backups
Backups monitored for Missed or Failed jobs and irregularities in backup job
Security of immediate off-site copy of data
3DES encrypted VPN Tunnel ensures safety of critical data
No client access to online data to ensure no tampering of protected data
Fast data recoveries
Outsourced management of process frees management and IT staff to focus on core competencies
No capital cost for or upgrade/upkeep of backup systems
Data integrity maintained for regulatory purposes
Low cost to setup and maintain


© 2008 Global Data Vaulting Inc.
Legal | Privacy Statement